Are you a baseball player who has to fly all of a sudden but can't leave your pieces of heart, i.e. baseball equipment, back home? Well, that is totally understandable!
For any sports lover, it is sometimes difficult to leave behind their passion just to have some time out of their city or country. So, if you are wondering how to fly with baseball equipment or baseball bats only being a baseball lover, your query and nervousness are entirely normal.
In this article, we have covered everything vital that you need to know about travel with baseball equipment and bats so that your next airport visit turns out to be smooth without having you leave your equipment behind.
How to fly with Baseball Equipment?
There is no denying that flying with any kind of sports equipment, including baseball, can turn out to be quite daunting, thanks to packing it thoroughly to be accepted by the airlines and carrying it throughout your journey.
However, passion knows no boundaries. If you are someone who can not live without playing baseball and don't want to invest in the equipment all over again wherever you visit, then carrying it with you is the only option left.
But how to fly with baseball equipment is that one query that will always leave you confused and nervous before your travel begins. This portion of the article will remove all your confusion.
Research about Airline
The first and foremost thing that you need to do is to check which airlines are permitting sports equipment to carry either in carry-on luggage or checked baggage. Since all the airlines come with different rules for taking stuff, you can end up in trouble if you do not thoroughly research the airline you are going to select.
Find a perfect equipment bag.
Just carrying your equipment in an airline is not the only task to look after, as keeping them safe throughout your journey is equally important. Therefore, if you are finally allowed by any airline to travel with baseball equipment, you need to invest in a baseball equipment bag that is specifically designed to keep your equipment safe. A variety of such bags are available to carry out the task perfectly.
Check for permitted equipment.
Yet again, this completely depends on the airline on what equipment it allows you to bring on board. For this purpose, you need to check what equipment is allowed to be kept in the carry-on luggage and what equipment is allowed to be put in checked baggage.
As per our knowledge, the permitted equipment in a piece of carry-on luggage includes:
Baseball helmets.
Baseball gloves.
Baseball balls.
Pumps and needles for Sports Ball.
The permitted equipment for a piece of checked baggage includes:
Baseball bats.
Novelty baseball bats.
We would again recommend not to completely rely on the information we provide as checking out on your airline's rules on what equipment is allowed in which kind of baggage is extremely important for you to prevent facing any kind of trouble.
Read: Best BBCOR Bat for Smaller Players
Flying with Baseball Bats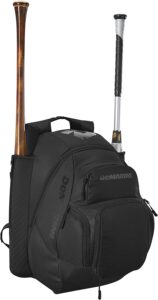 While all other equipment can be settled in the baggage, carrying a baseball bat along with you when you travel can be complicated because of how long it is. Additionally, another reason we are mentioning bats separately is that if you carry them in your hands, you can end up in huge trouble at the airport due to the bats being a potential threat.
So, what exactly do you need to do to travel with baseball bats?
The first and foremost thing to remember is that you never have to carry a baseball bat in the cabin since almost all airline authorities find it a potential threat with which one can attack someone's head easily.
This means baseball bats are only recommended to be carried in checked luggage, not carry-on luggage. Therefore, when you are travelling with only one piece of a baseball bat, it is always a good idea to put it in the checked suitcase to be on the safe side.
Now that you have finally decided to bring a baseball bat with you when you travel, how do you need to pack it to avoid any kind of trouble or mishap? Here are a few things to consider while packing your baseball bat to go through the airline.
Use a large suitcase and put your baseball bat inside, surrounded by clothes. This way, you will not be suspicious of the authorities, and your bat will be kept safe throughout the journey.
Always ensure that the bat is packed in a dry place to avoid any kind of damage. Avoid exposing it to moisture or direct sunlight and if by any means your bat gets wet during travel, ensure that you wipe the moisture off and dry it completely when you reach your destination.
It is recommended to pack the bats in a case so they are protected from getting dented or from any kind of damage that may occur during the travel. Additionally, keeping them in a case keeps them organized throughout the journey.
Ensure you are not making your bag overweight to cover your baseball bat. This will allow the authorities to charge you more for exceeding the allowed weight limit.
A wheeled duffel bag is yet another option to pack your baseball bat in. The solid part of the duffel bag will protect the bat, while you can use clothes as an extra protective layer.
If summarized, anything, including sports equipment like a baseball bat that can potentially threaten other people flying, is not allowed to be kept in the cabin and therefore is only allowed by the airlines to be put into the checked luggage.
Read: Why and How to Tape a Fungo Bat
Frequently Asked Questions
1-      Can you pack baseball equipment in your carry-on?
No one will be able to answer you that except for the authorities or official pages of the airlines you will travel with. Since all the airlines come with different rules, only they can guide you on what equipment of baseball you are allowed to bring with you when you travel with them. Additionally, according to their set rules, they will let you know what equipment to bring in the carry-on baggage and what to keep in the checked baggage for their safety purposes.
2-      Can you bring sports equipment on a plane?
Yes, almost all the airlines allow you to bring sports equipment with you when you travel with them, of course with some pre-set rules. But keep in mind that extra fees will apply if the bag you are carrying your sports equipment in exceeds the weight limit, which is around 50 pounds for most airlines. Standard fees may be applied depending on the number of checked bags, travel region, and also based on the cabin.
3-      Do airlines charge for bringing sports equipment?
Yes, there are baggage fees specifically for sports equipment ranging from around 30 US dollars and may go up to 150 US dollars depending on the size of the bag and if it exceeds weight limits or not. To know about the airline you are flying with better, you need to dig deep into their charges by visiting their websites or contacting their authorities through official numbers.
4-      Can you bring baseball ball pumps to the airline?
Yes, most of the time, the ball pumps that are used to inflate them are allowed to accompany the balls of different sports like baseball, football, or basketball, and various airlines allow them to be kept in the cabin since they possess no potential threat to the travellers. However, it is still advised to check with your airline before packing it in your carry-on luggage to avoid any kind of problem when you travel.
5-      Can I take my sports bag as a hand luggage?
Yes, you are usually allowed to carry your sports bag as hand luggage as long as it doesn't exceed the weight limit of a piece of hand luggage given by the airline, and also, it doesn't have any equipment that can turn out to be a threat for the fellow travellers like baseball bats.
Read: Most Expensive Baseball Bat
Conclusion
When you love any sports, including baseball, it gets quite difficult for you to leave the equipment behind when you are travelling or invest in new equipment once you reach your desired destination. Therefore, the majority of the people who love baseball or any kind of sports always decide to bring their sports equipment along to ensure they get to enjoy their passion even when they are travelling. But, one question that may keep you awake at night is how to fly with baseball equipment or whether travel with baseball bats is allowed on airlines. Well, while the airline you are going to travel with will answer these queries better, in this article, we have cleared out the majority of your confusion to make your next journey smooth and easy with your baseball equipment.